Gardening and growing since 1973
WHAT'S COOKING?
A collection of special recipes
for you to try.
INDEX of RECIPES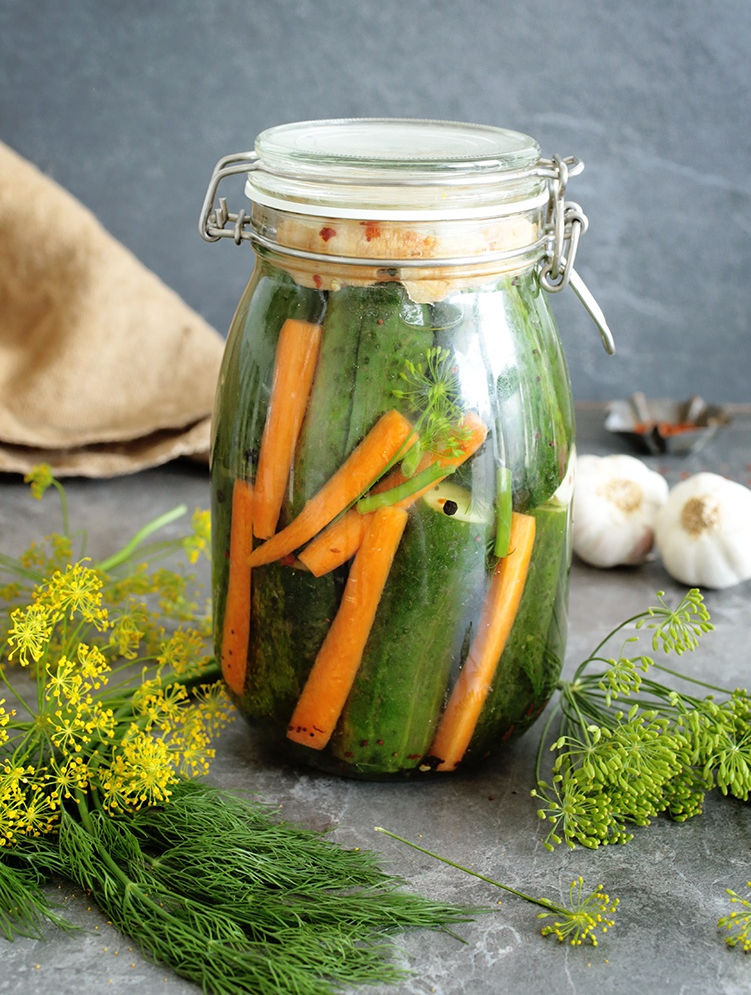 No need for canning over a hot stove! Fermenting is easy and safe. These fermented pickles have a mellow taste with wonderful flavour.
1½ Tbsp pickling salt or any iodine free salt
1 tsp pickling spice
Lots of garlic, at least 5 cloves
2 bay leaves
2 heads of dill
1 horseradish leaf or grape leaf
(keeps the pickles crisp)
Small cucumbers
1 quart Mason jar, rinsed in boiling water
Carrot spears
---------------------
Wash small cucumbers (don't scrub) and soak in cold water for 4 hours. Cut slivers off ends and prick with a fork two times, to help absorb brine.
Place one head of dill, salt, pickling spice, one bay leaf and horseradish leaf in base of jar. Fill with cucumbers and a handful of carrot spears. Place the other head of dill and bay leaf on top.
Fill jar with distilled (or sterilized) water. Put on lid and screw tight. Rotate jar several times to dissolve salt. Place jar upside down for 24 hours.
When 24 hours is up, place jar right side up and remove lid. Cover with a towel and allow to ferment 5 to 7 days. Check daily to remove any white scum that may form. Top up with distilled water to ensure all ingredients are covered.
Once fermentation is complete put on lid and store in the refrigerator. After a week pickles will be ready to eat. If the jar fizzes when you open it, you know they'll taste just like Babas!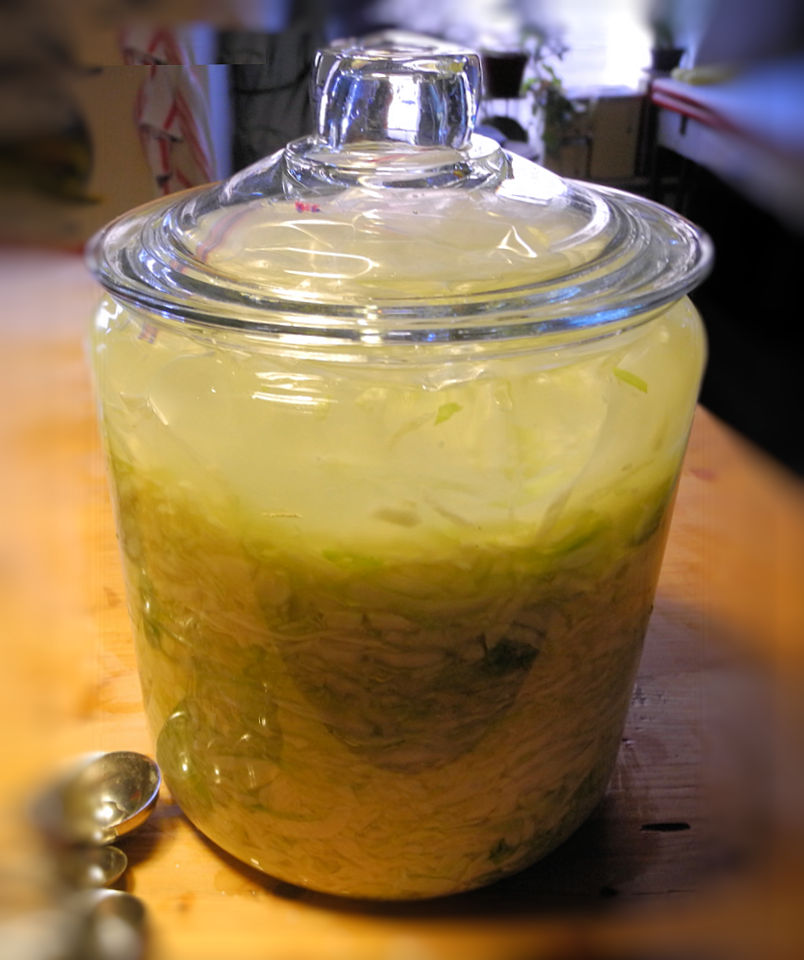 A simple fermented food and much tastier than anything you can buy.
15 lbs shredded cabbage
4 onions sliced
9 Tbsp pickling salt
1 Tbsp pickling spice
3 bay leaves
3 whole horseradish leaves
(keeps the kraut crisp)
Crock (ceramic or made of food safe plastic)
Plate that will fit into the crock
Two Mason jars filled with water (for weights)
---------------------
Preparation

.

Get rid of outer leaves. Rinse whole cabbage under running water. Quarter the cabbage and remove the core. Thinly slice cabbage with a knife or mandolin, and then slice the onion.
Place 5 lbs of shredded cabbage and one onion in large ceramic or metal bowl, sprinkle with 3 tablespoons pickling salt, and let sit for 15 minutes. Massage the cabbage with your hands until there is a fair amount of juice released.
Put the horseradish leaves and pickling spice in a crock, and then add the cabbage with its juice.
Repeat the process with the remaining ten pounds of cabbage, onion, and salt.
Place a clean pie plate over the cabbage in the crock and weight down with two water filled mason jars. Push down firmly to always make sure the cabbage is submerged in the juice. If the beneficial bacteria are exposed to oxygen, your sauerkraut will spoil.
Cover the crock with a clean bath towel.

Fermentation

. Store your kraut at 21 to 25 degrees Celsius for two to three weeks. Check every two days and remove any scum that forms. Your kraut is ready when bubbling stops.

Preservation

. When fermentation stops, store kraut in Mason jars with lids in the refrigerator or preserve in hot water bath:
Sanitize Mason jars in a boiling water canner and heat canning lids in boiling water.
Fill the jars with kraut and fermented juice up to 1/2 inch from the top. Seal with lids but don't tighten the lids extra tight.
Place filled jars in the canner. Cover with warm water to over the top of jars. Bring water to full rolling boil and process for 15 to 25 minutes.
When boiling time is completed, let jars rest in the canner for 5 minutes. Remove jars without tilting and let rest for 24 hours. Do not retighten lids.
Storage

. After 24 hours check to see if all lids are sealed. Store in cool dark place for up to a year.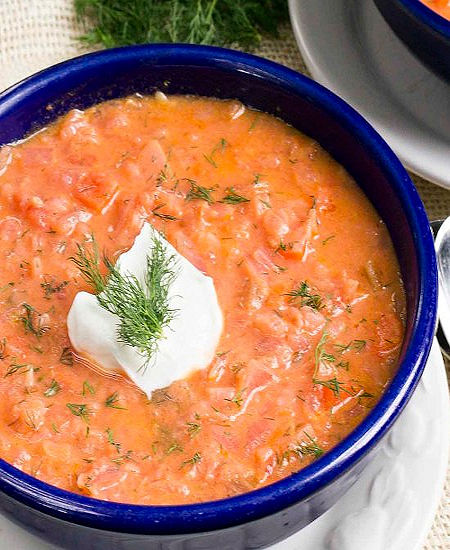 One of my most favourite recipes in late summer, when garden bounty is plentiful, is a steaming bowl of Doukobour borsch with a slice of homemade bread. Please don't be intimidated by the various steps. It is well worth the effort and is truly a salt-of-the-earth recipe!
Step 1: For mashed potatoes
2½ quarts water
½ can tomatoes
1 Tbsp salt
5-6 medium potatoes, peeled, cut in half
½ cup grated beets
½ cup grated carrots
Step 2: Tomato sauce
3 Tbsp butter
¾ cup onion, finely chopped
3 cups canned tomatoes
Step 3: Sauteed cabbage
3 Tbsp butter
2 cups shredded cabbage (to saute)
2 cups shredded cabbage (raw)
Step 4: Mashed potatoes, cont'd.
2 Tbsp butter
1 small carton of cream
Step 5: Assemble the soup
1½ cup diced raw potatoes
2 Tbsp butter
½ cup chopped green pepper
Black pepper to taste
---------------------
Boil 2½ quarts of water in large stock pot. Add ½ can tomatoes. When water is boiling, add 1 tbsp salt, drop in 5 or 6 medium potatoes, peeled and cut in half. Add ½ cup each of grated carrot and beet, and 1 medium onion, finely chopped.
While this is cooking, get yourself another large pot or cast iron pan – melt 3 tbsp butter and add ¾ cup finely chopped onion and let sauté for a few minutes until very soft and translucent – but DO NOT brown. Add 3 cups of canned tomatoes, and let simmer until it becomes a thick sauce. (Cooking this well removes the acid from the tomatoes so your cream won't curdle).
Into yet another frying pan melt 3 tbsp butter and add 2 cups shredded cabbage. Saute but do not brown. Allow to cook until cabbage is soft and tender. Shred another 2 cups of cabbage to add (raw) to the borscht later.
When potatoes are tender, remove them to a large bowl, add 2 tbsp butter and mash well until they are nice and creamy – slowly adding 1 small carton of cream. Mix well and set aside.
Add 1½ cup diced raw potatoes to stockpot and ½ of the tomato sauce mixture along with 2 tbsp butter. When diced potatoes are tender add the raw shredded cabbage (from step 3) and bring almost to boiling, but DO NOT BOIL!! When cabbage is tender, add the fried cabbage, the rest of the tomato sauce and mashed potatoes. Add ½ cup chopped fresh green pepper and black pepper to taste.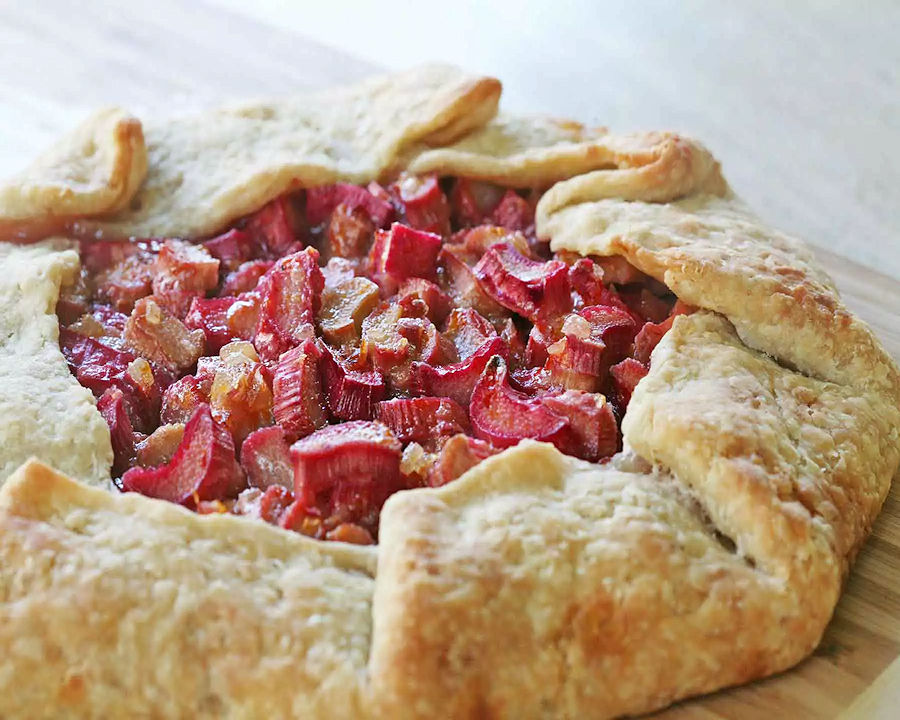 When spring is in full swing, enjoy this recipe from my family, showcasing first-of-the-season rhubarb. Try it and you won't be disappointed.
For the crust:
1½ cups flour
½ tsp salt
2 Tbsp sugar
¾ cup butter, chilled
4 tbsp very cold water
For the filling:
5 cups chopped rhubarb
¾ cup sugar
¼ cup cornstarch
2 Tbsp butter
¼ teaspoon cinnamon
Egg wash for pastry:
One beaten egg, to be brushed over pastry, followed by a dusting of 1 Tbsp brown sugar.
---------------------
Make the crust

:

Line a baking sheet with parchment paper.
In a food processor fitted with a steel blade (or by hand), combine the flour, salt and sugar. Pulse briefly to combine. Add the cold butter and process just until the butter is the size of peas, about 5 seconds. Sprinkle the ice water over the mixture and process just until moistened and very crumbly, about 5 seconds. Transfer the dough to a lightly floured work surface and knead a few times, just until it comes together into a cohesive ball. Pat the dough into a disk. Flour your work surface again and dust the dough with flour, as well. Using a rolling pin, roll into a circle 8 to 10 inches in diameter, turning and adding more flour as necessary so the dough doesn't stick.
Transfer the dough to the parchment-lined baking sheet and refrigerate while you prepare the filling. Go ahead and clean your work surface, because you'll roll the dough out further on the parchment paper.

Make the Filling

: Cut the rhubarb into 1/4 inch pieces and place in a large bowl. Add the sugar, cinnamon, and cornstarch and let sit for 30 minutes. Note: if you like a sweeter tart add an additional 1/4 cup of sugar.

Roll out the crust

:

Take the dough from the fridge and slide the parchment paper onto the countertop. Roll the dough, directly on the parchment paper, into a 14-inch circle about 1/8 inch thick. It's fine if the edges are a little ragged.
Place the parchment and dough back on the baking sheet – the pastry should curve up the lip of the pan.

Assemble the tart

:

Dust 1 tablespoon of flour evenly over the pastry. Arrange the rhubarb pieces to within 3 inches of the edge. Don't worry about making it look perfect! It doesn't make much difference in the end and you don't want the dough to get too warm.
Fold the edges of the dough over the rhubarb in a free-form fashion, working your way around and creating pleats as you go. Patch up any tears by pinching a bit of dough from the edge.
Using a pastry brush, brush the pleated dough evenly with the beaten egg. Dust with 1 tablespoon of brown sugar and put the assembled tart in the fridge for 15 to 20 minutes.

Bake the tart

:

Meanwhile, preheat the oven to 350°F and set an oven rack in the center position.
Bake for 55 to 65 minutes, or until the rhubarb is tender and the crust is golden and cooked through. (It's okay if some of the juices leak from the tart onto the pan. The juices will burn on the pan but the tart should be fine -- just scrape any burnt bits away from the tart once it's baked.) Transfer the pan to a rack and let cool.

When the tart is cool serve with a scoop of French vanilla ice cream. Enjoy!