Agnes Street Gardens
Gardening and growing since 1973
The ASGA Compost Project
Two years from idea to reality, the compost demonstration bins are built and busy making compost!
Compost is free! The ASGA Compost Project was built to show you how to make really good compost, with materials provided from your garden and nearby farms. Stop by to check out the Project, located behind the ASGA tool shed.
Click to watch BBC Gardeners' World MAKE COMPOST hosted by Master Gardener Monty Don. So much enthusiasm!
Compost is a magical substance that transforms your garden soil. Its main ingredient is humus, a complex substance that improves the health of soil by stabilizing pH, providing important plant nutrients, and retaining moisture. Humus is created by insects and microorganisms when they breakdown dead plant and animal materials.
March 24, 2022
Team 3 (Helen, Hannah & Karen) worked for 90+ minutes in the morning to transfer compost materials from Bin 1 to Bin 3, although Karen was unable to attend. The compost material had become very hot (about 150F) with steam rising. There was lots of digging and sorting, because the hot inner material had to go to the outside and the cool outer material had to go to the inside of the pile. A lot of work! Team 3 added more "greens" and accelerators to the layers to keep the "Hot Composting" going.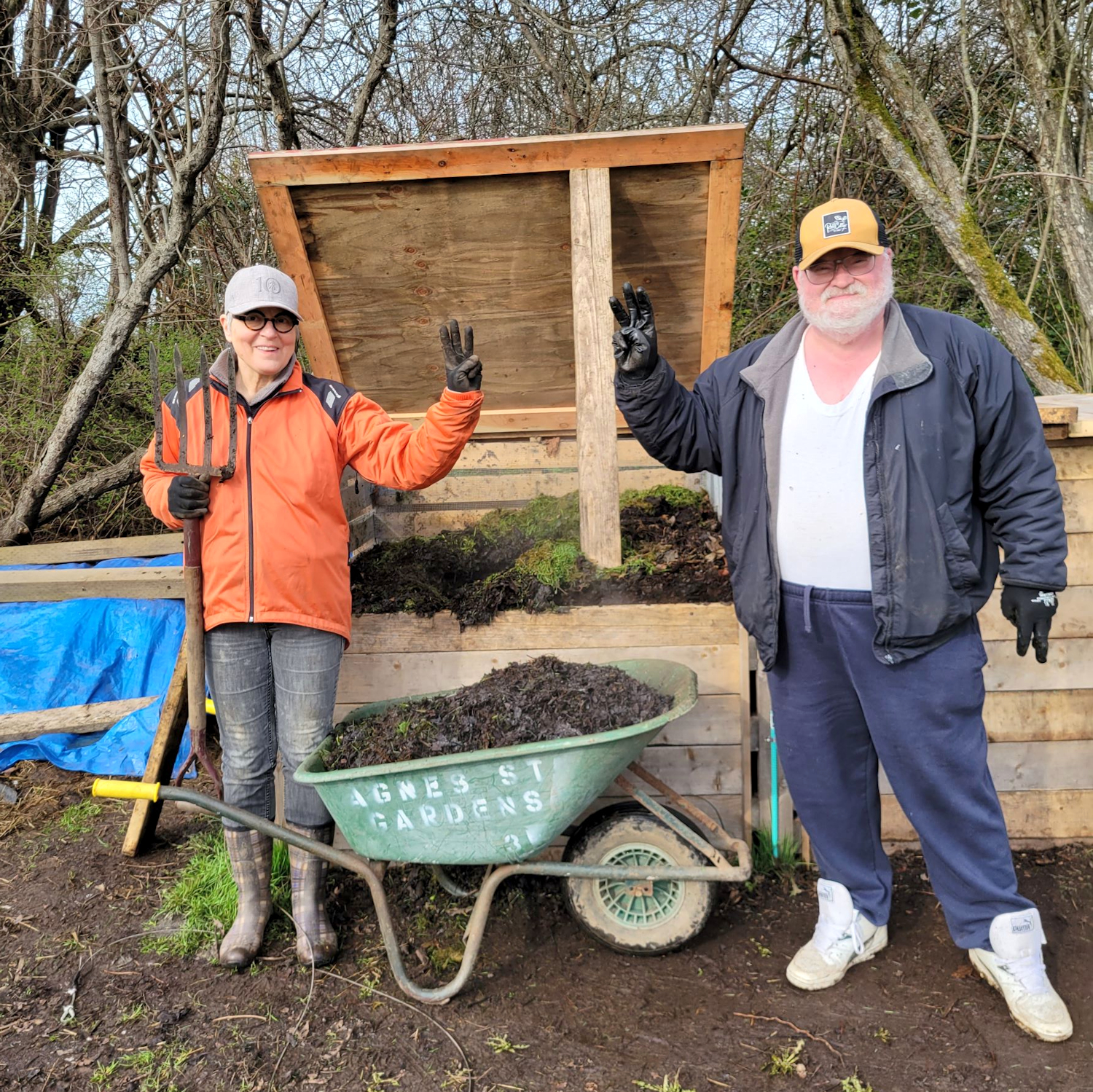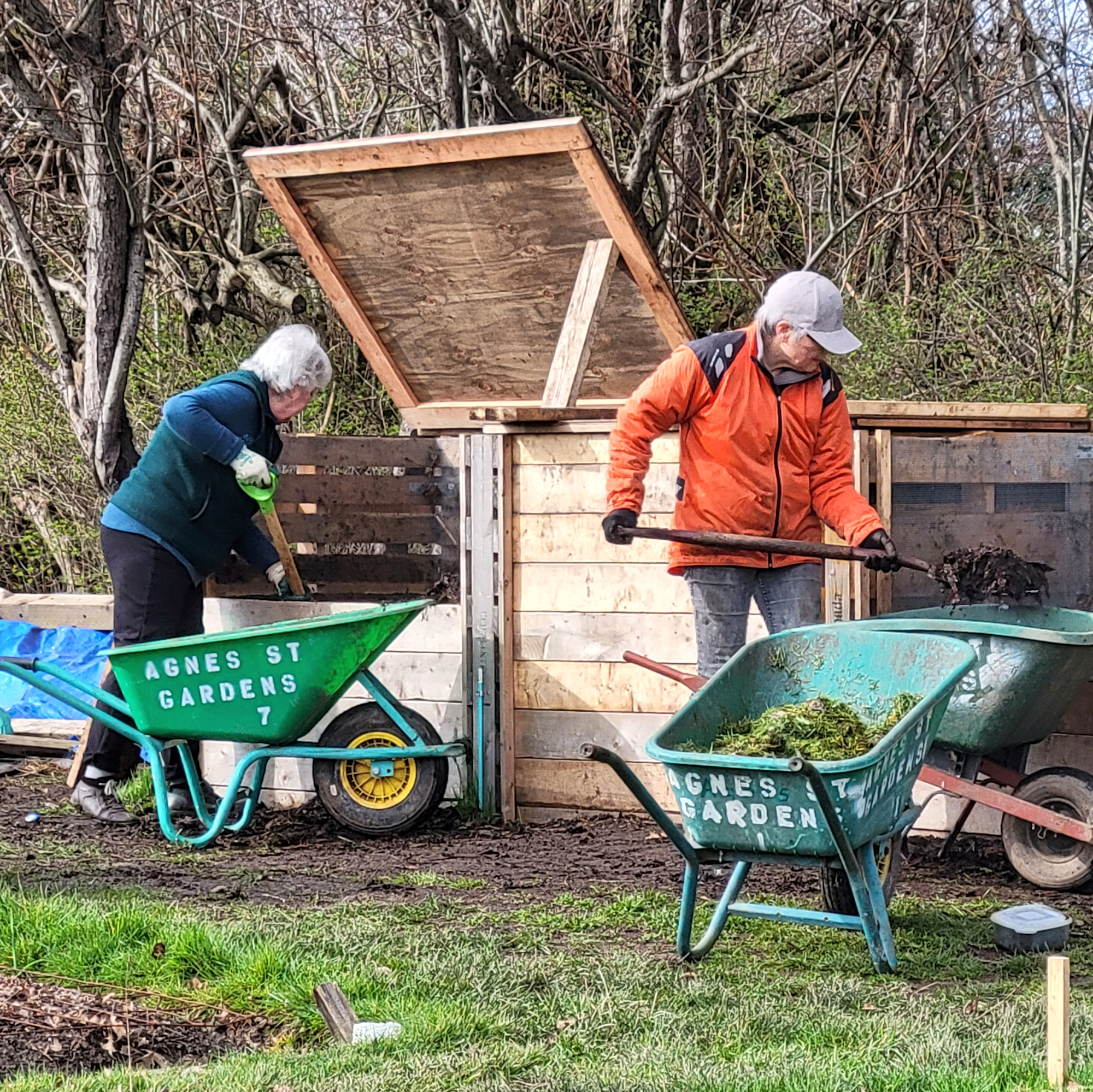 March 20, 2022
Team 2 (Hannah, Heather & Chloe) worked quickly and in just over an hour had Bin 2 loaded and layered with leaves, manures and compost accelerators. Since Chloe was away, the Team used a quick method of loading the wheelbarrows with a plank to deliver the materials into Bin 2. Great job of creative thinking.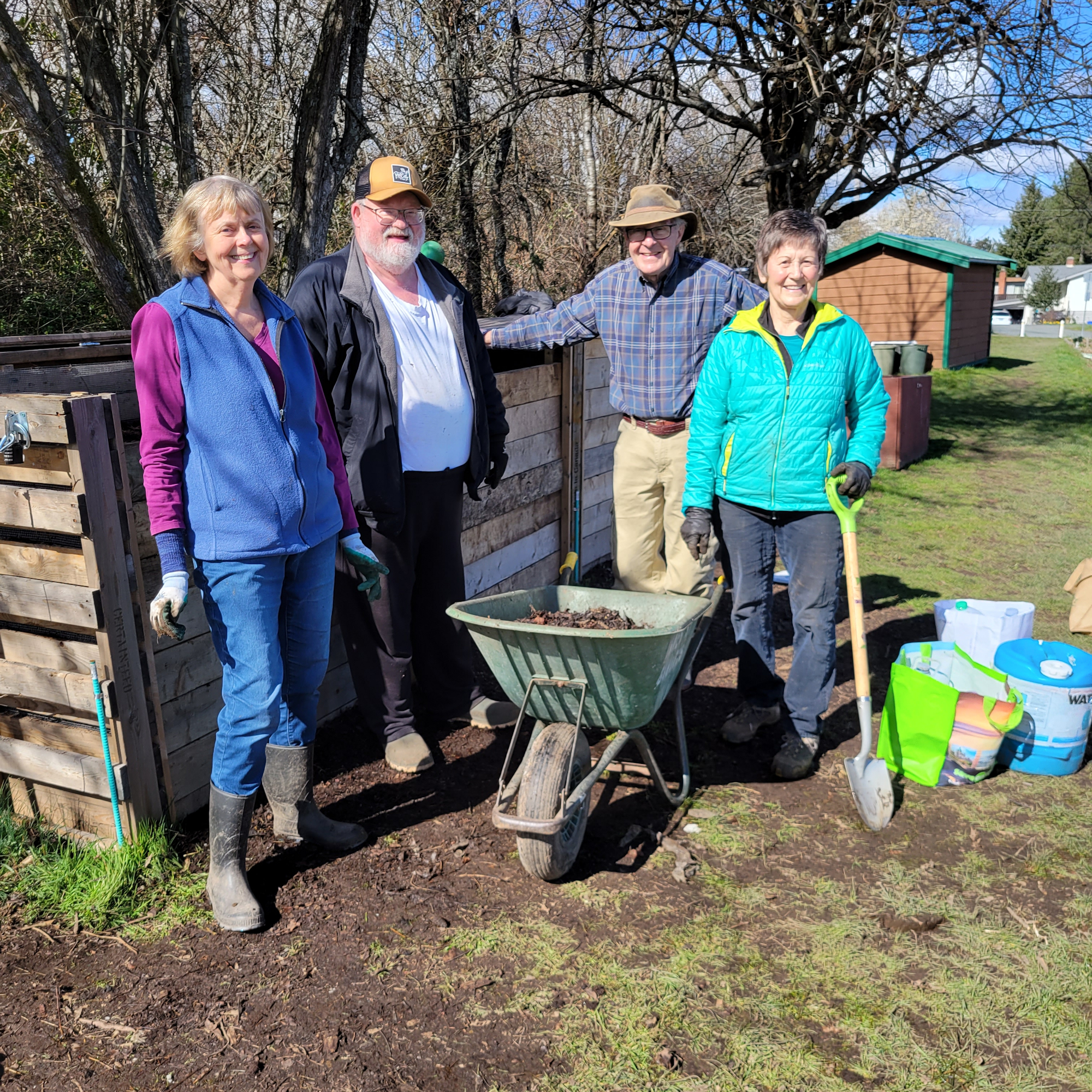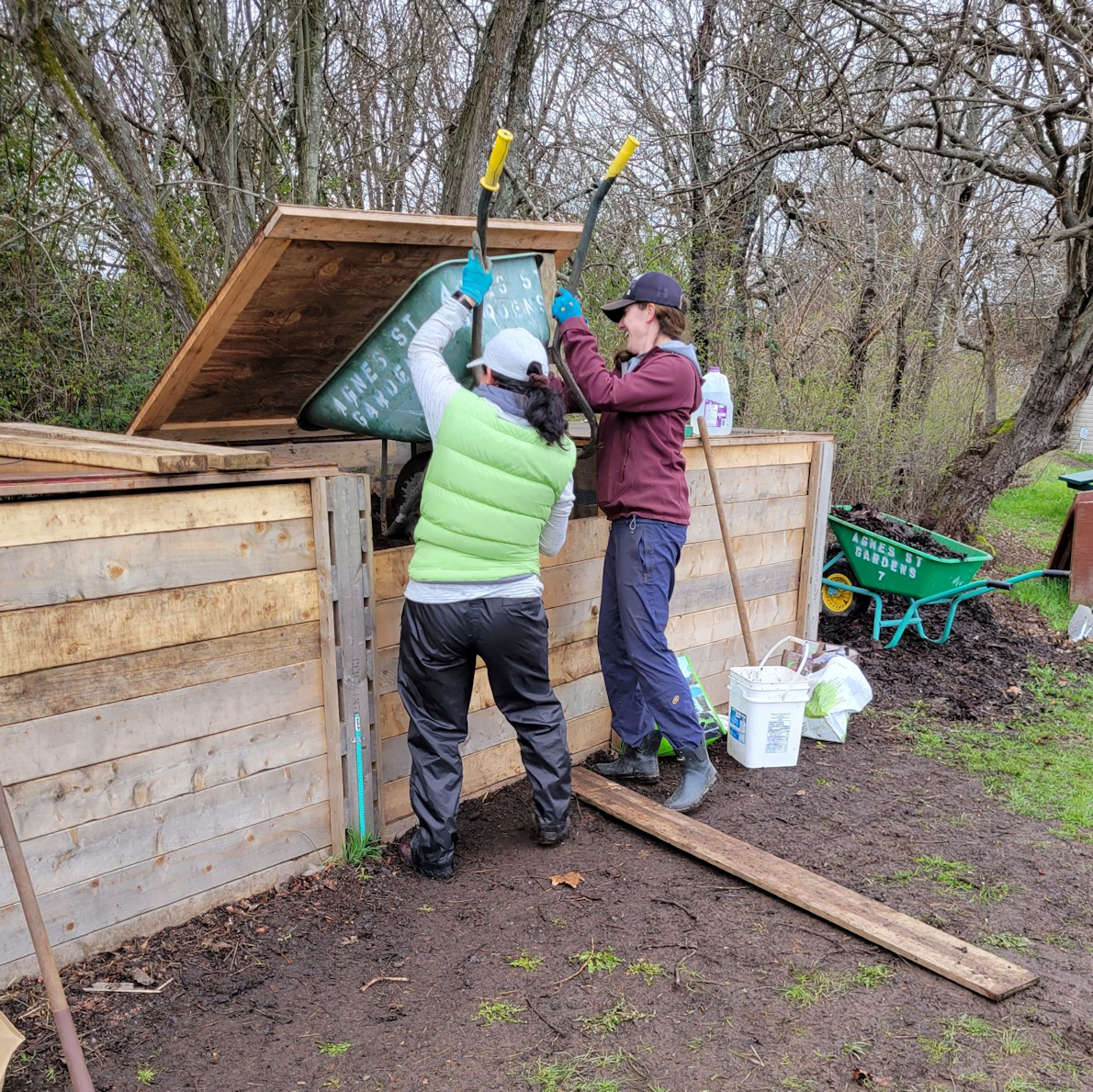 March 13, 2022
Team 1 (Josanne, Doug, Connie, and David) loaded and layered "green" manures (sheep, goat, chicken) and brown carbon material (shredded leaves). Compost accelerators (coffee grounds and a special mix from David K. including molasses & beer) were mixed into each layer. The Team worked steadily and had Bin 1 loaded in under 90 minutes. Great job! After 3 days the internal temperature was rising quickly.
Early 2022
To get the 2022 compost project started, an online Zoom session was held and interested Members were assigned to Teams 1 – 4. Each team is responsible for layering and turning the compost bins over the Spring months.
March 5-6, 2022
First batch complete! Many wheelbarrow-loads of compost were distributed to the Team members who had loaded and turned the compost bins over the winter. A "Hot Compost Method" had been used, requiring materials in the bins to be mixed and re-layered each time internal temperatures reached 160F or 55C – every few days for the first 4- 6 weeks. Their efforts produced sweet-smelling earthy compost which was ready to apply to garden plots, full of nutrients and healthy soil bacteria. Although a lot of work was required over the cold and rainy winter months, the end result was well worth the effort.
October 30, 2021 - Compost Team Loads 1st Compost Bin
Compost Team Members had a terrific sunny day for layering the compost materials into the first compost bin. The materials for the compost bin were sheep manure and shredded leaves with some additional accelerators (comfrey, coffee grounds, chicken manure).
GET INVOLVED!
Garden Members who are interested in participating in the Compost Project (shoveling and digging) and sharing in the final compost product should tick off Demonstration Compost Bins on the Volunteer Tasks Sheet when you renew your Plot rental for January 2022. You can also check directly with David Kolot (email: davithakos@gmail.com - Director of Education and Special Events at the Gardens). David Kolot is keeping a list of Members interested in the Compost Project and arranging a ZOOM instruction & orientation. A 2nd and 3rd Compost Team should be able to start with composting sometime in March 2022
THANK YOU TO ...
David Kolot, David Stott, Morag Masterton, Harvey Queen and Marc Shubrook for participating in the 1st Bin. Sourcing and transporting all the materials has taken several weeks. Thanks to David Stott for arranging with Parry Bay Sheep Farm to provide the free /no-cost sheep manure, thanks to Kathy & Lance Vaesen for loading and transporting the 1½ tons of sheep manure, and thanks to all the Members who helped move the manure nearer to the compost bins. Thanks to David Stott and Marc Shubrook for getting multiple truckloads of shredded leaves from Hyacinth and Playfair Parks. And a special thanks to David Kolot for arranging all the Zoom sessions, coordination of compost activities and for staying so positive and enthusiastic about the Compost Project these past 2 years.